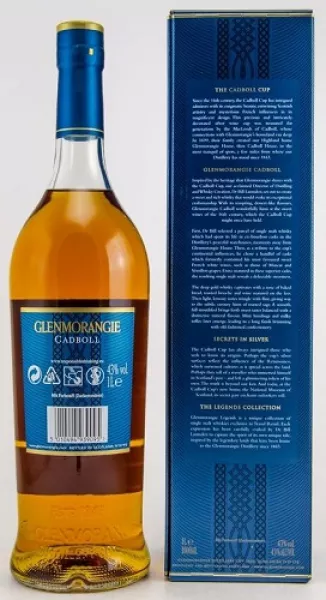 Glenmorangie The Cadboll ... 1x 0,7 Ltr.
Glenmorangie The Cadboll
Der Glenmorangie The Cadboll Single Malt Whisky erhielt am Ende seiner Reifezeit ein Finish in exquisiten französischen Barriques- Fässern, die früher Weine wie der Muscat- und Sémillion- Traube enthielten. So entstand ein Single Malt Whisky mit einem dessertartigen Geschmack.
Der Cadboll Cup ist ein geheimnisvoller Weinkelch, dessen Formgebung schottische Kunst und mystische französische Einflüsse vereint.
Geschmack
Nase:
Zunächst köstlich süß und doch trocken, wie frisch getoastetes Brioche. Danach entfalten sich leichte, süße und zitronige Aromen, gefolgt von einer kreidigen, frischen trockenen Note und dem dezenten pikanten Aroma von geröstetem Salbei.
Gaumen:
Samtig, rund und voll am Gaumen mit Aromen von frisch gebackenen Keksen, Konfekt und Puderzucker, perfekt ausbalanciert durch eine trockene, frische, mineralische Note und die charakteristischen blumigen Anklänge von Glenmorangie.
Nachklang:
Lang und komplex, mit einem abschließenden Hauch von Erdbeer- und Zitronenbonbons nach alter Manier.
Originaltastingnotes Glenmorangie Destillerie
Leider sind noch keine Bewertungen vorhanden. Seien Sie der Erste, der das Produkt bewertet.