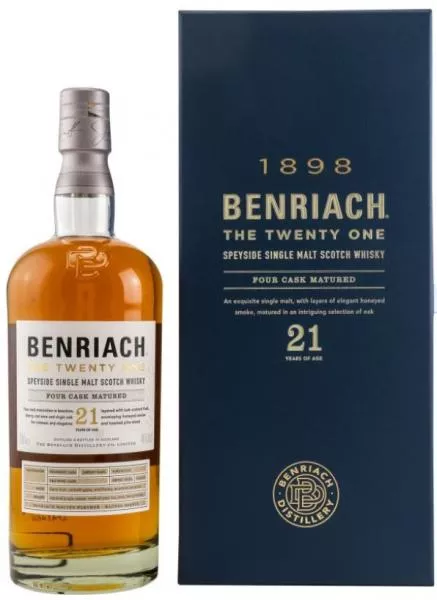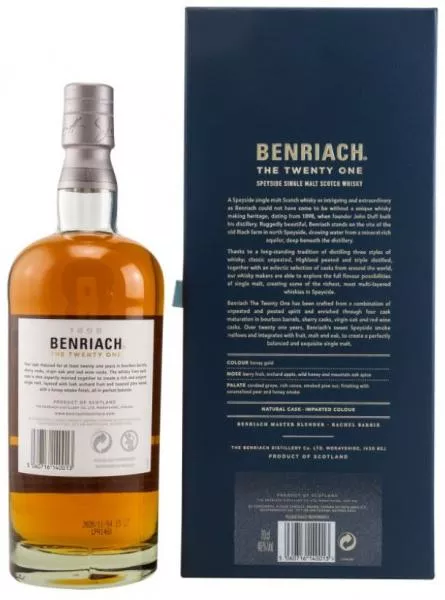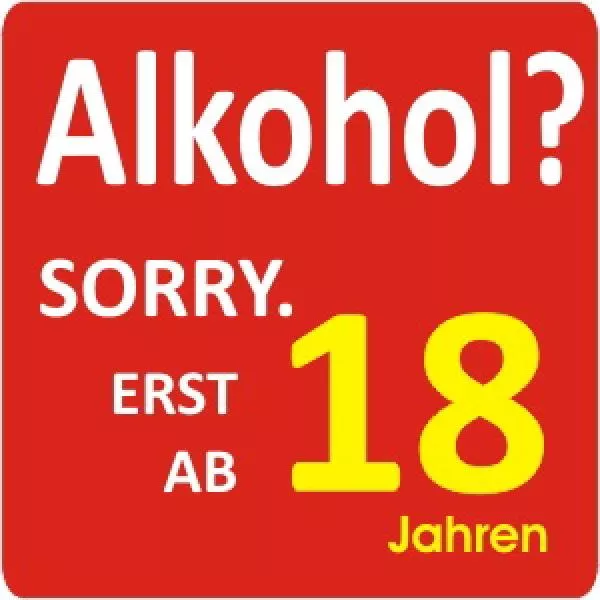 Benriach 21 Jahre - The Twenty One ... 1x 0,7 Ltr.
Benriach 21 Jahre - The Twenty One - ein Spiegelbild der Speyside
Für dieser 21 Jahre alten Single Malt Whisky aus der Destillerie Benriach im Herzen wurden getorftem und nicht getorftem Whisky aus vier Fässern verwendet und mindestens einundzwanzig Jahre in Bourbonfässern, Sherryfässern, Eichenfässern und Bordeaux-Rotweinfässern gelagert. Der lange Reifungsprozess dieses exquisiten Whiskys mildert den Speyside-Rauch und sorgt für eine wunderbare Harmonie mit Obst, Malz und Eiche. Nach 21 Jahren wirkt der Rauch noch deutlich süßer und wird durch die langjährige Fassreifung von vielen Aromen ergänzt. Die Whiskys aus den verschiedenen Fässern wird im Anschluss miteinander vermählt. So entstand ein reichhaltiger und eleganter Single Malt Whisky, der mit üppigen Obstgartenfrüchten und geröstetem Kiefernholz mit Honigrauch-Finish überzogen ist. Das alles ist nahezu perfekt ausbalanciert.
Geschmacksnotizen
Nase:
Beerenobst, Streuobstapfel, Wildhonig und Bergeichengewürz.
Gaumen:
Kandierte Trauben, reichhaltiger Kakao, geräucherte Pinienkerne, eleganter Rauch.
Nachklang:
Karamellisierter Birne und Honigrauch.
Rachel Berrie, Masterblenderin von Benriach zum "The Twenty One:
"Ein schönes Spiegelbild der Landschaft um Benriach. Ein echtes Gefühl von Bergeichengewürz, Frucht, cremigem Malz und elegantem Rauch."
Gönnen Sie sich diesen nahezu perfekte, reifen Benriach Whisky und bestellen Sie gleich!
Leider sind noch keine Bewertungen vorhanden. Seien Sie der Erste, der das Produkt bewertet.